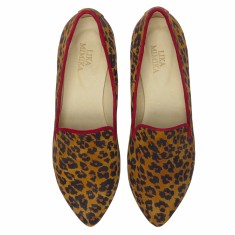 Leopard Loafer
EUR 185.00
Total inc. 19% VAT
ITALIAN GOAT SUEDE.

Inner lining organic calf. Very skin friendly and breathable - no chemical colors!

If you wear a half size in shoes, please downsize to the smaller size.


Made of very soft goat leather.

Leather Loafer from Lika Mimika are a modern interpretation of the classic style.

Small wooden heel patch at leather sole. Pointed toe.

Handmade in Spain.


Add to Cart